London riots: 'Mugging' verdicts quashed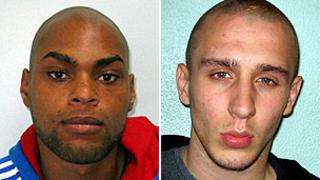 Two men found guilty of robbing a Malaysian student during the riots in London have had their convictions overturned.
Ashraf Rossli, now 21, was attacked on 8 August 2011 in Barking, east London.
Footage of him being helped up before being robbed was recorded on a mobile phone and posted on YouTube.
John Kafunda, 23, of Ilford, and Reece Donovan, 25, of Romford, had robbery and violent disorder convictions quashed at the Court of Appeal.
The hearing was held in private at the Court of Appeal but Lord Judge, Mr Justice Fulford and Mr Justice Bean announced their decision in open court.
The judges said they would give the reasons for their decisions at a later date.
Millions of people watched online the CCTV footage of Mr Rossli being robbed by men purporting to be Good Samaritans.
'Witness anonymity'
The accountancy student, who had been in the UK for a month, had his jaw shattered by a rioter moments earlier as he cycled in Barking.
Mr Kafunda and Mr Donovan were accused of robbing him as he walked in a dazed state over the Queen's Road flyover.
They insisted it was not them in the video but were convicted on the back of anonymous witness evidence.
During the original trial, Mr Kafunda told police he was "a million per cent sure" he was not the man seen in a CCTV film talking to Mr Rossli while his alleged accomplice rifled through his rucksack.
In March, Mr Kafunda had been jailed for four years and three months and Mr Donovan had received a five-year sentence.
The Crown Prosecution Service said it would not be seeking a retrial.
A spokesman said: "Victims and witnesses are at the heart of the criminal justice system and it is important that they have the support necessary to enable them to give their best evidence at court.
"Where it is necessary to protect the identification of a witness we can in certain circumstances apply to the court for witness anonymity.
"Our application for witness anonymity for two witnesses in this trial was allowed by the judge. Without anonymity being given these witnesses would not have given evidence.
"The Court of Appeal has quashed these convictions as a result of allowing this application."