Mother fears missing Croydon girl 'snatched'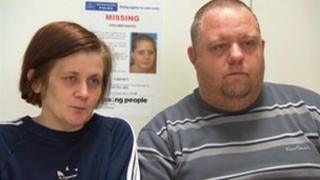 The parents of a 14-year-old girl missing from Croydon, south London, for almost four weeks, say they believe their daughter has been "snatched".
Shelley Pratt was last seen on 8 November.
Lisa and Tony Pratt said new CCTV footage images from a tram station in George Street, Croydon, taken at about 23:00 that day are "100% her".
Police believe she may be with a friend or boyfriend but said they were concerned about her safety.
'Really worried'
Until the latest footage, the last sighting of the teenager was when she got off a bus outside the Harris Academy in South Norwood at about 15:30 GMT.
She walked down Portland Road with another girl and a boy.
She was wearing a dark purple hooded jumper with the slogan 'I [heart symbol] London.'
Mrs Pratt who last saw her when she left for school, said: "We're really, really worried now."
She added that her hunch was that someone had taken her.
"I reckon someone's got her. She's such a pretty girl. She looks older than 14."
They described their daughter, as a "typical teenager", the "joker" in their family of six children, with a tendency to be "argumentative".
They said her disappearance had had a big impact on the whole family.
Det Ch Insp Mark Dunne said: "We've spoken to all her friends but have so far drawn a blank.
"We suspect that she may well be in a position with a friend or boyfriend and finding it hard to extricate herself."
He said he had the impression she was vulnerable and an attractive 14-year-old girl who may look older than she is.
He added: "It's a combination of those factors that make us very concerned now for her well-being and safety."