Oyster card celebrates 150th Tube anniversary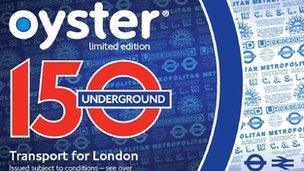 Vintage Tube logos form the background of a commemorative Oyster card to mark the 150th anniversary of London Underground rail service in London.
The Tube began service on 10 January 1863, covering a three-and-a-half mile journey between Paddington and Farringdon on the Metropolitan Line.
The one million souvenir pay-as-you-go smartcards will cost £10, including a £5 deposit, Transport for London said.
The cards can be bought from all Tube stations from 10 December.
People will be able to use the pay-as-you-go cards, also available at TfL information centres, straightaway.
Oyster cards, which were introduced in 2003, are used on Tubes, buses, trains, trams and the Docklands Light Railway.
More than 55 million cards are in use across the network.
Mike Brown, managing director for London Underground and London Rail, said: "The growth of the world's first underground railway has always been very closely linked to the success of the London and the UK economy.
"This wonderful souvenir Oyster card, just like the regular Oyster card, is the easiest, cheapest and best way to help our passengers move around the city."
Related Internet Links
The BBC is not responsible for the content of external sites.