Metropolitan Police arrests 297 in licensing raids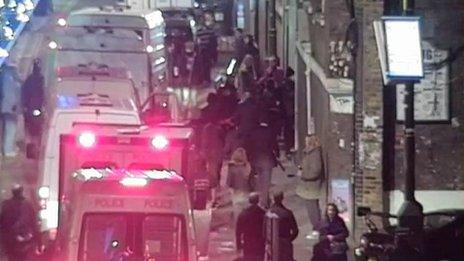 Raids across London to crack down on premises flouting licensing laws have led to 297 arrests, police said.
More than 4,000 officers visited 5,830 premises during the 48-hour operation, which began at 08:00 GMT on Friday.
The biggest raid, involving 175 officers, was at 93 Feet East club in Brick Lane, after intelligence about suspected drug dealers operating there.
The club was closed down along with 21 other venues, including pubs, saunas and massage parlours, police said.
In total 297 people were arrested for various offences during Operation Condor, including theft, immigration breaches, public order offences and possession of Class A and Class B drugs and possession of drugs with the intent to supply.
The last Operation Condor in June led to 320 arrests.
Commander Mak Chishty, who led the operation, said the officers' "concerted efforts" had paid off.
"Licensing impacts upon everyday community life.
"In our shops and supermarkets this means people do not sell knives, harmful substances or alcohol to young people, in our pubs and clubs it means that alcohol is sold and consumed in a responsible way, on our roads it means that vehicles, such as taxis are properly licensed and safe," he said.
Related Internet Links
The BBC is not responsible for the content of external sites.