Bar in Hackney raided over whale skin-infused cocktail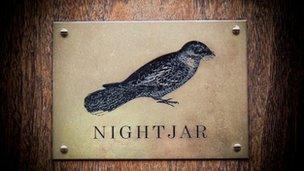 A cocktail bar in east London has been raided by police after it sold a drink containing whale skin.
Bar Nightjar in City Road, Hackney, was visited by officers on 3 December after an allegation was made in October.
The bar said it used to serve a drink, called Moby Dick, which had "a small amount of whisky infused with a single 2[cm] x 5cm strip of dried whale skin".
Under EU law, there is a ban on the hunting and trading of cetaceans such as whales and dolphins.
Police have seized the bottle of whisky for testing, but no arrests have been made,
A statement from Bar Nightjar said: "We did have a drink on this year's menu which included a small amount of scotch whisky infused with a single 2 x 5cm strip of dried whale skin.
"The strip was purchased in a shop by an employee while on a trip to Japan in autumn 2011."
The bar added that until the police arrived it had not been aware of the legislation, and the drink has been removed from its menu.
It said it was also going to train staff and ensure that "all ingredients on our menu are responsibly sourced".
"In hindsight we realise that regardless of the legal framework around such products, it was an error of judgement on our part to include this on our menu, and we would like to offer our apologies to anyone who may have been offended by it."
Related Internet Links
The BBC is not responsible for the content of external sites.