Man denies murdering street cleaner Piotr Mikiewicz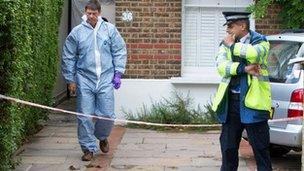 A man accused of stabbing a street cleaner to death has pleaded not guilty to his murder.
Roger Philip Buckingham, 30, Shepherd's Bush, west London, denied murdering Piotr Mikiewicz, 40, on 29 August.
Mr Buckingham, who appeared at the Old Bailey via video-link, pleaded guilty to a burglary which took place on the same date in Shepherd's Bush and a theft which took place on 25 August.
Mr Mikiewicz was attacked trying to stop a house burglar.
Mr Justice Saunders set a trial date of 18 March, 2013.
Related Internet Links
The BBC is not responsible for the content of external sites.