Tottenham report calls for regeneration body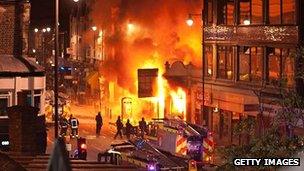 A report into the best way to rebuild Tottenham following the August 2011 riots has recommended an independent body to oversee regeneration.
The Independent Panel on Tottenham report has 10 critical recommendations, including creating jobs and new housing.
It also recommends adopting a programme for hundreds of troubled families.
Riots spread across England after police shot Mark Duggan in Tottenham, north London, on 4 August last year.
Property developer Sir Stuart Lipton, the panel's chairman, was appointed to champion regeneration in Tottenham by Boris Johnson after the riots.
The report, called It Took Another Riot, outlines key challenges to be tackled in partnership by Haringey council, the Greater London Authority (GLA) and the government.
Its recommendations include tackling "rife" overcrowding, reducing unemployment, ensuring transport links serve the area and not just pass through it, and opening more "fun" facilities such as cinemas, music venues and theatres.
Sir Stuart said a new vision for Tottenham would create "real change for the community producing growth and social change".
He added: "Opportunities in Tottenham will allow Government to implement existing policies for change which, with appropriate substantial financial support, will make a real difference to the area."
The GLA has allocated £28m for development and regeneration in the area, including creating better transport links, bringing empty buildings back into use, improving the High Road and an employment and skills programme.
The Mayor of London welcomed the findings of the report.
Boris Johnson said: "What happened in Tottenham last year was a wake up call to us all and I am determined that those scenes should never be repeated.
"There can be no doubt that Tottenham needs greater support in grappling with the challenge of delivering jobs and improved infrastructure and this report details the challenges we face to achieve this.
"The idea of a new organisation to help drive forward lasting change in Tottenham is particularly compelling and one that I will be looking at closely."
The report comes after Tottenham MP David Lammy claimed that Tottenham police station could shut along with others across London as the Metropolitan Police seeks to make £500m savings over the next three years.
Stephen Greenhalgh, deputy mayor for policing and crime, later told BBC London that Tottenham police station would "definitely not close".
He said he could not say whether it would stay open 24-hours a day because the police and crime plan was currently being drawn up.
A spokeswoman from the Mayor's Office for Policing and Crime said no decisions had been made, but that every borough would have at least one 24-hour police station.
"Exact locations will depend on the Metropolitan Police's operational policing assessment and the needs of local areas," she said.
"Plans will be finalised by April 2013 following public consultation on the draft Police and Crime Plan for London."
Related Internet Links
The BBC is not responsible for the content of external sites.