Reg Traviss rape accuser 'went out clubbing' next night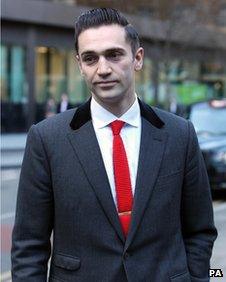 A woman who alleges Amy Winehouse's former boyfriend twice raped her while she slept, went out clubbing the next night, a court has heard.
Reg Traviss, 35, is alleged to have attacked the woman early on 31 December 2011.
The complainant went out with friends later for New Year's Eve, Southwark Crown Court heard.
Mr Traviss has denied two counts of rape.
The woman, a friend of the film director, told Southwark Crown Court: "I didn't want to be at home miserable thinking about it."
The complainant, who cannot be identified, has alleged the film director raped her twice at his home in Marylebone High Street, central London, when she was so drunk she could not stand up.
She said she woke up to find him raping her.
The jury of six men and six women have heard he stopped when told to and they then had a glass of wine on his sofa and talked before the complainant trusted him to go back to bed with her.
She alleges she woke up a second time to find him raping her.
She said she waited three months to take an Aids test.
The woman told the court: "When I woke up that afternoon I was confused and not sure if it was a dream or I had been raped.
"When I left I didn't want to ask Reg in case it came across really rude.
"It was only when I got home I thought about it again and realised what had happened."
The defendant was Amy Winehouse's boyfriend at the time she died, in July 2011.
Related Internet Links
The BBC is not responsible for the content of external sites.