'Harassment' claim against London deputy mayor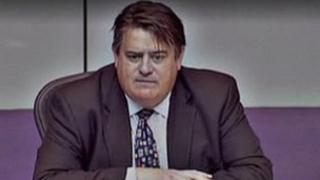 Labour has called for an inquiry into claims a City Hall aide complained about harassment by deputy mayor Stephen Greenhalgh.
The female official is understood to have told a colleague that he had behaved inappropriately towards her in a City Hall lift last month.
She is said to have been "upset" by the incident but has not made a formal complaint.
A statement on behalf of Mr Greenhalgh said he had "no recollection" of it.
'Absurd' statement
In response to inquiries from the BBC on Tuesday night, City Hall issued a statement from Mr Greenhalgh, who is deputy mayor for policing, which said: "I have no recollection of this event and I understand no complaint had been made.
"Nonetheless I would like to apologise unreservedly for anything that could be or may have been construed as inappropriate behaviour on my part," he said.
Labour have called for mayor Boris Johnson to begin an investigation.
Labour leader on the London Assembly Len Duvall said: "The statement made by Stephen Greenhalgh is absurd. If he didn't do anything wrong why did he apologise?
"It is completely unacceptable that someone in such a senior position cannot recollect whether such a serious incident occurred only a few weeks ago.
"Regardless of whether a formal complaint is made or not this needs investigating.
"If it remains unclear or unresolved then he should step down.
"I understand that this has been going on for four weeks, we need to know who knew what and when in the Mayor's Office, Boris needs to establish what has been going on."
No formal complaint
Following the episode last month the official told a colleague what she believed had happened.
It is understood she felt Mr Greenhalgh had "touched inappropriately".
BBC London understands that the mayor's economic adviser Kit Malthouse became aware of the claim and notified Will Walden, the mayor's director of communications.
Another senior official Samantha Hart spoke to the member of staff.
A City Hall spokesman said she had been offered an opportunity to pursue a complaint through formal procedures but declined.