Charito Cruz hammer murder: Victim's partner jailed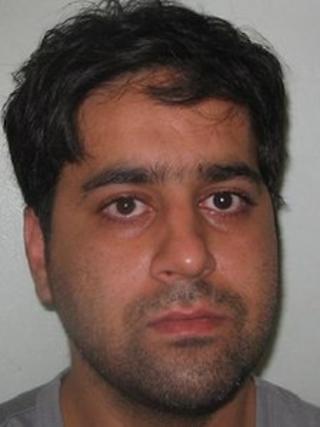 A man who bludgeoned his partner to death in front of their toddler daughter when their relationship broke down has been jailed for life.
Charito Cruz, 37, was struck 50 times with a hammer by Muhammed Asad Niazi, 30, the Old Bailey heard.
Jurors were told the defendant acted out of revenge when he realised the relationship was coming to an end.
Niazi, of Cambridge Road, Kingston, south-west London, was ordered to serve a minimum prison term of 12 years.
He was found guilty of murdering Miss Cruz in September.
During his trial, the court heard Niazi had gone to police asking to be returned to Pakistan but was referred to the UK Border Agency.
Fake emails
Ms Cruz had come to the UK as a student from the Philippines and worked two jobs as a nanny and a cleaner.
Niazi was not allowed to work because of his immigration status but he refused to do the housework and cleaning as he cared for their child at home.
He had come to the UK from Pakistan in 2003 on a student visa and remained after its expiry in 2007.
The court heard that when the relationship broke down, each parent feared they would lose custody of the child.
Emails purporting to have come from Ms Cruz that were designed to show she had provoked him, had in fact been sent by Niazi.
Jonathan Rees QC, prosecuting, said: "The evidence indicates that Charito was not at home during these times and the inference must be that it was the defendant who was accessing her email account for his own purposes."