London 2012 venues 'inspire' European sporting bids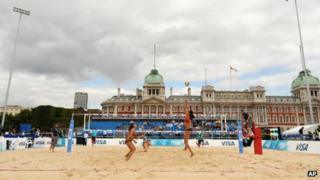 Two European countries are taking inspiration from the London Games to help with their bids to host major sporting events.
The idea to host beach volleyball in Horse Guards Parade and archery at Lord's has prompted Denmark and Spain to plan similar events.
Representatives visited the Olympics on fact finding missions to learn about ticketing, venues and transportation.
Madrid is bidding to host the 2020 Olympics.
Referring to Horse Guards Parade, Theresa Zabell, chief executive officer for International Relations for the Madrid 2020 Olympic Bid Team, said: "It was really a wonderful idea to have one of the sporting venues inside such a cultural and iconic place.
'Major inspiration'
"When we came back (from London) we talked about it and we thought we could really do something like this.
"Madrid also has these great iconic places and we've started to include it in our bid book."
Madrid's plans include hosting beach volleyball on a platform on a lake in Retiro Park and regenerating an old bull fighting ring to host basketball.
It presents its bid on 7 January in Lausanne in Switzerland.
Lars Vallentin Christensen, director of Sport Events at Wonderful Copenhagen in Denmark, said: "I had the pleasure of being in London for a couple of days. The main focus was to see how London was designing the streets and the venues to get people in and out, and the infrastructure.
"We were so impressed by the beach volleyball at Horse Guards with Big Ben in the background. It couldn't have been done better - that's a major inspiration for us.
"We have a list of major events in the future. We would like to host the Continental Cup BVB (beach volleyball) and we want to do it right in front of the opera house with the backdrop of the royal castle."