Koo Stark denies painting theft from Warren Walker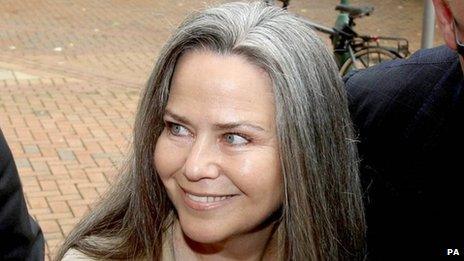 A former girlfriend of the Duke of York has appeared in court to deny stealing a £40,000 painting from an ex partner.
Koo Stark, appearing at London's Isleworth Crown Court under the name Kathleen Stark, is accused of stealing the artwork from the flat of Warren Walker, father of her daughter Tatiana.
Ms Stark, 56, spoke only to confirm her name and deny a charge of theft from 21 July.
Her trial has been set for 17 June.
The American-born actress and photographer, who lives in Sloane Square, central London, is alleged to have stolen an Anthonie van Borssom oil painting, which depicts a moonlit coastal landscape.
When Ms Stark was 26 she dated the Duke of York after his return from the Falklands War in 1982.
In February last year, Ms Stark was made bankrupt at the High Court over an unpaid hotel bill of £38,680.
The bankruptcy petition was brought by the Jumeirah hotel group over her stay at the five-star Jumeirah Carlton Tower Hotel in London's Knightsbridge area in 2008.
Related Internet Links
The BBC is not responsible for the content of external sites.