Met policeman who texted on-trial Laura Johnson keeps job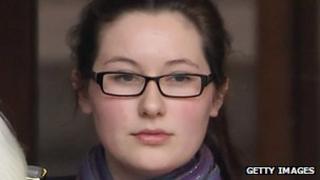 A Metropolitan Police officer who texted a millionaire's daughter who drove looters around London during the 2011 riots has kept his job.
Laura Johnson, 20, of Orpington, south-east London, was handed a two-year jail term in May after being convicted of burglary and handling stolen goods.
It emerged that Det Con James Quigley sent a text message to Johnson during her trial, where he gave evidence.
He was placed on restricted duties while an inquiry was carried out.
The text was raised at Inner London Crown Court by defence lawyers mid-way through the trial.
Det Con Quigley gave evidence in court detailing his contact with Johnson in the aftermath of the riots.
The officer went to her home after the family received anonymous hostile letters following her arrest, which drew widespread publicity.
'Disciplinary action'
The contents of the text message have never been disclosed.
The Metropolitan Police's Directorate of Professional Standards investigated Det Con Quigley's conduct, and the 38-year-old was later subject to disciplinary action.
He escaped any accusation of gross-misconduct and continues in his job with the force.
A Met Police spokesman said: "A 38-year-old officer from Bromley was placed on restricted duties pending the outcome of the internal investigation following allegations of inappropriate behaviour.
"He has since received disciplinary action."
Jurors at Inner London Crown Court were told that Johnson drove several looters around various shops during the height of the riots.
Her passengers jumped from the car wearing hooded tops, bandanas and balaclavas and loaded it with stolen electronic goods.
Johnson - who was reading English and Italian at Exeter University - is a former grammar school pupil who reportedly achieved four A*s and nine As at GCSE.
She is the daughter of Robert and Lindsay Johnson, who own direct marketing business Avongate Ltd.