Barts and the London NHS Trust in £1m overpay error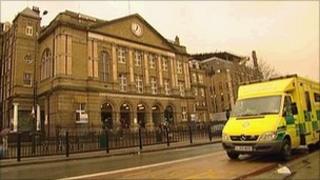 A London NHS trust has overpaid its staff by a total of nearly £1m a year since 2010, documents have revealed.
In one case, a doctor was paid £4,000 a month by Barts and the London NHS Trust for nearly four years for on-call duties he or she was not doing.
An audit report released by the Barts Health NHS Trust in east London said a debt-collecting agency had to be employed to reclaim the money.
The trust said it rigorously pursued all salary overpayments.
Barts Health was formed last year by the merger of Barts and The London NHS Trust and two other trusts.
Paid in error
The audit report and other documents were released under a Freedom of Information request by the Health Service Journal.
They showed that during the 2010/11 financial year, 329 salary overpayments worth £971,000 were made.
In the last financial year to April 2012, £995,000 was paid in error.
Most overpayments were made to those in areas involving emergency care and acute medicine, and ambulatory services.
The figures relate to staff members at St Bartholomew's Hospital in the City of London, the Royal London in Whitechapel and the London Chest Hospital in Bethnal Green.
'Has to stop'
The trust said the amount was 0.25% of its total salary bill of £393 million.
A report to the trust management board in October 2012 by newly-appointed director of human resources Michael Pantlin said: "Barts Health overpays staff circa £1m per year - much of which is lost. This has to stop."
The problem has been put down to managers not promptly relaying staff changes to the payroll department.
Mr Pantlin said: "There can be no quick fix to the overpayments issue unless the executive team endorse a change in management behaviours and begin to hold managers to account."
At the end of 2011, 70% of people who had been overpaid were being pursued by debt-collecting agencies to recover the money.
Ian Walker, director of corporate affairs, said the trust was introducing simpler electronic forms for reporting staff leavers and that management guidelines had been reissued.
He said data on salary overpayments would be considered at managers' performance review meetings and repeat offenders would be subject to disciplinary action.
In 2011, Barts and The London NHS Trust announced it would cut 635 jobs over two years to reduce costs.
The total saving from the job losses was expected to be £30m.