Former deputy mayor Ray Lewis gets mentoring job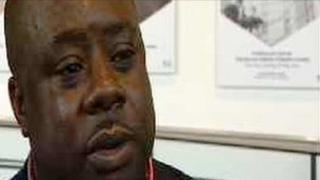 A former deputy mayor who resigned following claims of financial irregularities has been given another job by Boris Johnson.
Ray Lewis, who denied the accusations, stepped down as the London mayor's deputy for young people in 2008.
He has now taken a paid role to help develop youth mentoring programmes.
In 2010 he was given a voluntary role as mayor's ambassador for mentoring but opponents have dubbed the scheme he was involved in an "unmitigated disaster".
The scheme came under criticism for pairing just 62 mentors and mentees when its objective had been to link 1,000 black youngsters with 1,000 black men.
'Wealth of experience'
Mr Lewis, who is the executive director of Eastside Young Leaders Academy, will now work with the Greater London Authority's (GLA) youth and education team to help organisations in London develop their mentoring programmes.
City Hall said he would also be spending time advising on the GLA's own mentoring programme, which will be awarding up to £700,000 of funding.
The mentoring projects will be in Brent, Croydon, Hackney, Haringey, Lambeth, Southwark, and Waltham Forest.
He will work one day a week and be paid £20,000.
Mr Johnson said: "Ray Lewis has a wealth of experience helping vulnerable young men turn their lives around.
"His work at Eastside Academy proves how decisive positive role-models can be in steering boys back on to the right path.
"As a passionate supporter of mentoring, I believe he is the right person to help us take forward our expansion in this area."
'No inquiry'
But Val Shawcross, London Assembly member for London, said: "Ray Lewis has been the advisor on this programme and it has been an unmitigated disaster so far so we don't see why the mayor should be paying somebody now for doing work which he has done quite badly in the last two years."
Mr Lewis resigned in 2008 after three complaints of financial irregularities.
He said the allegations were unfounded and untrue and said he was resigning so that the claims would not "obscure the important business" of the mayoralty.
No inquiry into Mr Lewis's finances was held by City Hall following the resignation.
At the time, Mr Johnson's office said it was inappropriate for taxpayers to fund an inquiry into a private individual who had already resigned.