Cat cafe purrfect for petless Londoners?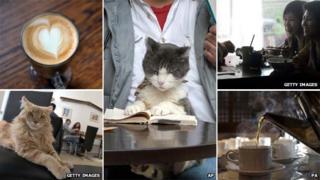 Plans are afoot to open a cat cafe in London, but how difficult is it to own a pet in the city?
After a long day at work, for many there is nothing more comforting than curling up with a cat or the exuberant face of a dog bounding towards you when you walk through the door.
In London, like other cities, it can be difficult to own a pet for a variety of reasons such as long working hours and commutes; private landlords not allowing them and incompatible lifestyles.
Now it is hoped a cafe with in-house cats will give Londoners their animal fix.
Popular in Japan, cat cafes are a haven for lovers of all things feline, where customers can stroke, pet and coo over the animals.
Set to be called Lady Dinah's Cat Emporium - after Alice's cat in Alice in Wonderland - it is the brainwave of Lauren Pears who hopes to open the cafe in east London.
Ms Pears first visited a cat cafe in Tokyo in 2008.
"It was a nice experience, it made for a better cafe all round," she says adding there is something "relaxing about it, it's soothing being around an animal."
At the time she was living in Australia where she had cats but when she moved to London, the size of her flat and her work hours meant it was not practical for her to have them.
Missing the comfort they provide, the idea of a cat cafe came about after she noticed people on her commute would stop to pat cats as soon as they got out of the train station.
Ms Pears has decided to raise the funds needed by crowd-funding. So far, people have pledged over £11,000.
"We've had an enormous response by people who are excited about this idea," she says.
The cafe would be split into three parts: an area for the cats; one where people can mix with them and another where food and drink would be served.
Legally the only stipulation is that animals cannot be near the area where the food is prepared and initial conversations with health and safety experts have been positive.
The cafe would have about 20 cats, which would come from Mayhew Animal Home who would make sure the animals that are re-homed there feel comfortable around people.
Cat-lover Louise Ault, 25, loves the idea because her job as a manager in the entertainment industry and the size of her rented flat in Hammersmith mean she cannot own one.
"I have a hectic job so it wouldn't be fair to have a cat," she said. "Cats can take care of themselves but you still need to be there."
'Bored and unexercised'
Compared with the rest of the country, fewer people in London own pets.
Across the UK, 18% of households own a cat while 24% have a dog according to a survey by the Pet Food Manufacturer's Association. These figures drop to 10% and 7% respectively in London.
Of those that do have a pet in London, 39% said they had one for companionship.
Mayhew Animal Homes says low pet ownership could be because of work and housing restrictions.
"We don't necessarily re-home pets with a garden, as flats can be more than suitable but some people may want a size or breed of pet which just isn't suitable for their environment," says a spokeswoman.
"Working hours would be a large factor for being unable to have a pet as naturally they need company, stimulus and exercise and this can either mean paying for a pet sitter or dog walker, or restricting your pet to hours alone, bored and unexercised in your property."
Foster care
A survey by the Dogs Trust found of the people who had pets when they were looking for privately rented accommodation, 17% did not find a property which allowed pets while 32% took at least three months to find a place. Of the 384 people surveyed, 16% kept the pet without the landlord's consent.
A spokeswoman for the charity said: "We often hear from pet owners who have been forced into rented accommodation; this causes concern as many landlords operate a strict no-pet policy.
"Dog owners find themselves faced with the heartbreaking decision to give up their pet or resort to extreme measures to ensure they can live with their dog, such as living in a car or pitching up a tent in a friend's garden - we have heard some remarkable stories of determination."
It is these factors which make re-homing very difficult.
Jenny Eden, branch manager for the RSPCA's central and north-east London branch, said it was getting harder each year. Last year they had 1,300 animals sent to them, an increase of about 200 on the previous year.
"It's an increasing problem everywhere but London is difficult to re-home in as people in general don't have the space."
One option for people who want a pet but cannot guarantee long term support is fostering.
Ms Eden said the centre has 80 foster carers who look after animals for any amount of time, with the minimum amount being a month.
For the centre, this is great as it helps them to use that time to find the animal a permanent home and it frees up space for the constant influx of animals that are coming their way.
"With more coming at us, it gets harder every year to find homes with people willing to make long term commitment," says Ms Eden.
"It's a constant battle as we're the ones who take the old damaged ones which are difficult to re-home."
It is hoped that if the cat cafe goes ahead and is successful, more could open which may help keep more animals out of shelters.