Camden Council to reverse nursery care hours cut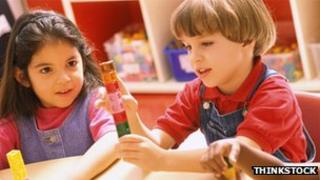 A north London council is to reverse a decision which saw full-time nursery places for three-year olds halved.
Camden Council made the cuts, affecting 800 children, following the government spending review in 2011.
It now plans to "prioritise spending on children and families" and give three and four-year olds full-time places in schools and children's centres.
Liberal Democrat Keith Moffitt said it was "a reversal of a disastrous decision which was very badly handled".
'Bold decision'
Mr Moffitt said: "The council's children's and young people's services have suffered from a lack of grip over the last three years, with a succession of four different cabinet members responsible for this area."
The reversal by the Labour-run council will take the statutory number of weekly nursery hours up from 15 to 25 per child.
The council said after reviewing the impact on families, schools and children's centres the cut would be reversed and was expected to be introduced in September 2013, after being rubber stamped this month.
Councillor Angela Mason, the cabinet member for children, said: "Like most councils, Camden has had to make cuts in many areas but we think it's important to prioritise our spending on children and families.
"Improving educational attainment while providing support to the parents and families of Camden is at the heart of our bold decision to restore full-time nursery provision in schools and children's centres."
Childcare costs in London are the highest in the country with, on average, more than four children for each nursery place.