London stolen Asian jewellery owners urged to claim items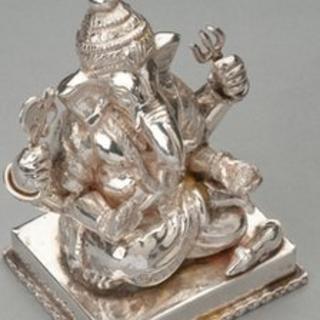 Owners of south Asian jewellery, coins and ornaments that have been stolen are being asked to claim them.
The valuable items were found at addresses in Streatham and Southwark in south London, in September.
They include a bejewelled owl-shaped gold ring, a statuette of the Hindu god Ganesha, and coins featuring Hindu images.
Officers believe the items, suspected family heirlooms, were stolen from homes across the UK.
Det Sgt Ian Gibson, of the Metropolitan Police, who is leading the investigation, said many of them were unique.
"Some feature engravings of names and what we believe is Hindi script," he said.
"There are a number of items, featuring Hindu and other religious imagery.
"Given the unique nature of these items, we suspect that they are family heirlooms or ceremonial pieces, and that they will hold sentimental value for the owners."
Two 49-year-old men have been arrested on suspicion of handling stolen goods.
They have been bailed to return to a south London police station later in January.
Pictures of 43 of the recovered items can be seen on the Met's image website.