Regent's Park swans' reunion cut short by fatal fox mauling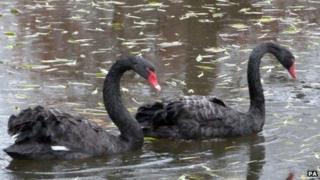 A female swan which was reunited with its mate of seven years in London's Regent's Park following a separation has been killed by a fox.
The Australian black swans, which mate for life, lived apart for about six months after they began "squabbling" in early summer last year.
The female was moved back into the lake in Queen Mary's Garden on 14 December.
Royal Parks said the mauled bird was found four days later and they are now monitoring the male swan.
Assistant park manager Andy Williams said: "Unfortunately, several days after being released back on to the lake, the female Australian black swan was killed by a fox.
"In 30 years of keeping black swans on the lake in Queen Mary's Gardens we have only ever experienced one previous fox attack and this was 10 years ago.
"The swans had lived happily on the lake for seven years.
"After the incident our dedicated wildlife officer moved the male swan to the Nature Study Centre in Regent's Park, where he remains at this time."
The pair were reunited after the male was spotted searching and calling for his mate.
The park is hoping to have black swans on the lake again.