Stun guns seized at Heathrow after border fears raised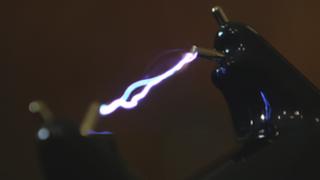 Nine stun guns have been seized at Heathrow Airport - days after a BBC investigation raised fears they can be illegally imported with ease.
Possessing a stun gun carries a maximum jail sentence of 10 years, but Inside Out bought two devices by mail order. They both made it through customs.
It led to criticism of the UK Border Force, which admitted it was unable to say how many it had seized since 2009.
The force then issued a press release announcing the new seizure.
Stronger than Tasers
The weapons were taken from a father and son who had flown from Bangkok, landing at Heathrow on Thursday.
Officials found the stun guns in the luggage of the pair, aged 69 and 30 and from Caerphilly. The men remain in custody.
Border Force Heathrow Director Marc Owen said: "These kinds of weapons can be extremely dangerous in the wrong hands.
"Border Force is at the forefront of the fight to stop illegal weapons entering the UK and our officers work around the clock to keep them out of the country."
On Monday the BBC had revealed how stun guns with a voltage 20 times stronger than police Taser weapons can be easily bought online.
Statistics obtained under the Freedom of Information Act showed the Metropolitan Police has investigated more than 200 crimes involving the weapons in the past three years.
Over the same period they seized about 500 stun guns.
'Worrying admission'
The weapons are legally manufactured abroad but cannot be bought in the UK.
Yet the BBC was able to order a pair of powerful stun guns from a German website for £60 each.
Both weapons, sent separately, arrived in days. And each came with a free - and illegal - pepper spray.
At one million volts, one of the guns had a voltage 20 times that of the 50,000 volt weapons carried by police.
At the time a UKBF spokesman admitted the most recent year for which it was able to provide figures was 2008-2009 when 160 were seized.
The agency denied it had stopped counting stun gun seizures altogether, claiming the statistics from 2009-2010 onwards were "in the verification process".
Labour had called it a "worrying admission" and said: "If UKBF don't even know how many stun guns have been stopped at the border, how can it possibly address this problem?"