Lakanal House fire: Fire officer 'unfamiliar' with fire exits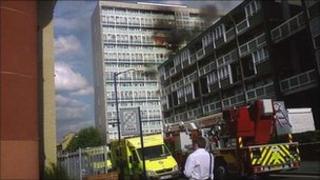 A senior London Fire Brigade officer at the scene of a fatal tower block blaze in south London was "unfamiliar" with the fire exits, an inquest has heard.
Crew manager Barry Willett, who was in charge of deployment at Lakanal House in Camberwell, said he had not been on a "familiarisation visit".
Six people, including three children, were killed in the blaze in July 2009.
Jade Spence, in whose flat the fire started, recalled seeing "thick black smoke" and a part of her room on fire.
Fire crews were at the scene within three minutes of receiving the first call and followed procedure to get crews deployed, the inquest heard.
Previously jurors have heard how faulty electrical equipment started the fire in flat number 65 on the ninth floor of the 14 storey block.
It spread to other flats including number 79, where victim Catherine Hickman, 31, lived and flat 81, where victims Helen Udoaka, 34, and her baby daughter Michelle had gathered with Dayana Francisquini, 26, and her children six-year-old Thais, and Filipe, three.
'Don't feel guilty'
Miss Spence, who lived with her partner and her two children, told the inquest that she was in the flat with her partner's baby on the day.
Minutes after she left her bedroom on the lower level and went upstairs, the smoke alarm went off and she saw "thick black smoke" coming from downstairs.
She ran to her room downstairs and saw the corner of the room was ablaze.
She tried to call her partner but after failing to reach her she immediately called the fire brigade.
Miss Spence said she took the baby and followed the fire exit signs along the balcony to make her way out of the building.
After her evidence a spokesperson on behalf of Rafael Cervi and Mbet Udoaka, both of whom lost their wives and children, told Miss Spence "not to feel guilty" because the fire "could have happened anywhere".
The inquest then heard from Mr Willett who was the senior-most officer to reach the scene first.
Mr Willett, who had been based in Peckham since 2006, told the coroner's counsel James Maxwell-Scott that he had not been on a "familiarisation visit" to Lakanal House, but had been there previously to attend to burst pipes and flooding.
During questioning the officer acknowledged that he was "unfamiliar" with the building, the numbering system of the flats and individual escape routes from the flats, including the fire exit signs along balconies.
The officer said firefighters knew immediately that Catherine Hickman was trapped in flat 79 but those on the ground had no information on how to get to it or from it safely.
Previously the inquest heard that Miss Hickman gave a detailed account of the fire spreading in the flat to a 999 operator before falling unconscious.
The inquest continues.