London fire cuts could 'affect ability to respond'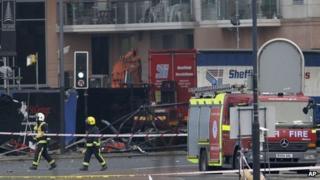 Firefighters could be delayed getting to large scale emergency incidents if proposed cuts go ahead, London Fire Brigade Union says.
It said plans to close 12 fire stations with the loss of 520 jobs would jeopardise people's safety.
Among the threatened stations is Clapham, from where a fire crew rushed to the scene of a fatal helicopter crash on Wednesday.
London Fire Brigade said cuts would not stop crews attending incidents quickly.
Capt Pete Barnes, 50, from Berkshire, died when the helicopter he was piloting hit a crane at The Tower, One St George Wharf, beside the River Thames in South Lambeth.
Matthew Wood, 39, of Sutton, who was walking on the ground, also died.
Three fire appliances arrived within four minutes of the incident. Their target guidelines for response times is within six minutes.
James Cleverly, chairman of the London Fire and Emergency Planning Authority, said the appliances arrived from Lambeth, Brixton and Clapham stations.
Paul Embery from London Fire Brigades Union said: "Had that station [Clapham] been closed, there might not have been a long delay but there would have been one.
"If you haven't got a fire station close to where you live, you'll rely on one several miles away.
"With something like fire, it kills within minutes. Life and death is seconds and any delay would see deaths and injuries," he said.
'Enough resources'
The closures are part of plans to cut £45m over the next two years.
The number of fire stations in London would be reduced to 100 under the proposals, which are due to go before the fire authority for a vote on 21 January.
Mr Cleverly said the brigade could "comfortably" deal with "multiple incidents of this scale" and the cuts would not compromise that ability.
"I have absolute confidence that if it had happened in the way it happened today after the changes have gone through, firefighters would still be able to get to the incident as quickly as they did," he said.
"We would still have enough resources."
He said at its peak, 10 fire appliances were used. Across the whole fire brigade there are 169 fire appliances which will be reduced to 151 if the cuts are approved.
But Mr Embery said: "The problem with that line is that it gives the impression that the other appliances were sat doing nothing."
He said the other appliances would have been doing other important work such as attending other incidents or community safety days.
He added firefighters at large incidents had to be relieved every three hours as there is a limit to how long they can work at such intensity.
'Really stretched'
One of the biggest complaints from firefighters is that they were not being replaced, he said.
"All you need is a couple of incidents to happen simultaneously - even today we are really, really stretched. It will get even worse."
But the fire brigade said services will not be stretched because fire engines spend around 7% of their time at emergency incidents.
Rita Dexter, deputy commissioner of the London Fire Brigade, said: "This was a tragic accident. However, it's exactly the type of incident the proposals published last week take into account.
"The response times of our fire engines were very good and would remain so if the 12 stations closed.
"The area where this accident took place would still be very well served, with nine fire engines in three miles of the scene."
She added the proposals would mean that, on average across London, 15 seconds would be added to the time it takes for the first fire engine to arrive at the scene of an incident.