London helicopter crash: Matthew Wood's sister's home burgled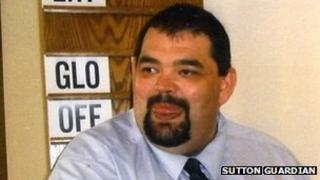 The sister of a man killed when a helicopter crashed to the ground in central London had her home burgled while the family gathered to mourn.
Amanda Wood, sister of Matthew Wood, who died, said: "It's horrible. It has been the worst week of my life."
Mr Wood, 39, from Sutton, was walking to work when the helicopter crashed into a crane in Vauxhall on Wednesday.
Police were called to reports of a burglary at Ms Wood's house in Carshalton, Surrey, on Thursday night.
'Jewellery gone'
No arrests have been made.
Ms Wood said she had been at her brother Darren's house "so the family could all be in one place to give each other support" when she was told about the burglary.
"Our neighbour phoned to say 'I'm at yours with the police. You've been broken into.'
"It's absolutely gutting," she said.
She said having to deal with a "death under those circumstances... then the night after having to deal with this [burglary], it's awful".
"They'd kicked in the bottom panel of the back door. The drawers were pulled out and bits of jewellery were gone."
Ms Wood has said her brother was a "big guy with a big heart" who doted on his nephew.