Football fans help clear snow from Griffin Park pitch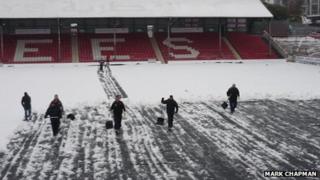 More than 150 fans came out to help clear snow from the pitch at Brentford Football Club in west London.
The club put out an appeal after the referee gave the go-ahead to the Brentford v Tranmere Rovers match after inspecting the surface at Griffin Park.
It took two hours for 150 Brentford fans and two Tranmere fans to clear the snow from the cover on the ground.
The club has thanked the fans who responded to the Twitter appeal within an hour and volunteered to help.
Volunteers also cleared the stands and concourses, the club said.
Tony Ashley, operations manager at Brentford FC, said: "To see so many come out in the cold and help was amazing.
"It is a testament to the supporters that so many wanted to help us.
"Without their help we may have struggled to get the game on."