Elderly woman attacked in home after rabbit hoax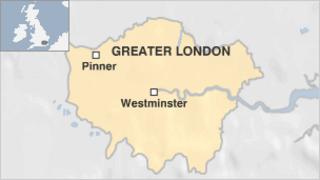 A woman in her eighties has been left badly injured after two men and two young children tricked their way into her home, police have said.
Officers said the children went to her door in Pinner, north west London, on 12 January claiming their pet rabbit had escaped into her garden.
The woman suffered injuries to her head and body as she was dragged around the house and her handbag was stolen.
Police said the main suspect is Asian, in his mid-twenties and 5ft 10in.
'Callous' attack
The woman, who lives in the Cuckoo Hill area, answered her door at about 18:00 GMT.
A man and the two children, thought to be aged about eight to 10, were joined by a second man who forced his way into the house.
The victim was thrown to the kitchen floor as the house was searched for valuables.
The brother-in-law of the elderly woman said: "The most disturbing thing is the man in question is using children to gain access to the property and used the opportunity to attack her.
"The callousness of this crime is the way this man treated this dear old lady.
"Her handbag was clearly visible yet he threw her around the place."
Det Con Paul Matthews said the woman, who needed hospital treatment, suffered a "great deal of distress".
Police said two men with similar descriptions were seen in the area the day before claiming to be from the Macmillan cancer charity.
The second adult suspect is described as Asian, aged around 18 to 20, 5ft 7in, wearing a dark woolly hat and a distinctive light coloured heavy knit sweater, similar to cricket jumper.
The main suspect was wearing a dark, heavy knit woolly hat and a pale grey or cream coloured scarf.
'Photo ID'
A Macmillan Cancer Support spokeswoman said: 'We would advise people who are approached by door-to-door collectors saying they are from Macmillan Cancer Support to ask to see their official identification.
"Macmillan Cancer Support door-to-door fundraisers will always be wearing either a Macmillan branded green t-shirt or jacket with the Macmillan logo clearly displayed.
"They wear ID badges showing our registered charity number, a fundraiser ID number and a photo of themselves.
"Fundraisers for Macmillan will have direct debit forms displaying the Fundraising Standards Board logo and will be carrying Macmillan literature, such as welcome packs.
"They will never ask for cash donations."