London helicopter crash: Pilot 'had been diverted'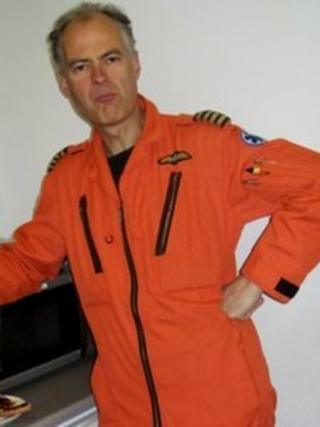 A pilot who died in a helicopter crash in central London had been diverted due to bad weather, an inquest has heard.
Capt Pete Barnes died from multiple injuries after the aircraft hit a crane on The Tower, St George Wharf, in Vauxhall, on Wednesday morning.
While en route from Surrey to Hertfordshire, he was diverted to Battersea heliport, Southwark Coroner's Court heard.
Matthew Wood, 39, of Sutton, south London, was killed on the ground.
The coroner did not set a date for the opening of the inquest into Mr Wood's death.
Severe burns
Mr Barnes, 50, was flying from Redhill Aerodrome in Surrey to Elstree when the helicopter clipped the crane and crashed into Wandsworth Road.
Police, the fire brigade and the air ambulance all attended the scene and Mr Barnes was pronounced dead, London Inner South Coroner Andrew Harris heard.
Dr Harris said he would review the case in three months and did not set a date for a future hearing.
The pilot, a father-of-two with 25 years' experience, had flown as an air ambulance pilot and in several films during his career.
Mr Barnes, from near Reading in Berkshire, has been described as "highly skilled" and "a good guy".
He was born in Nottingham and was single, the inquest heard.
Pedestrian Matthew Wood was killed as he walked to work. Post-mortem tests showed he died from severe burns and a leg injury.
Meanwhile, transport spokesman Earl Attlee told the House of Lords that helicopter operations over London were safe and "strictly controlled".
Last week's accident was the first fatal helicopter accident in London since records began in 1976.
"We are waiting for the air accident investigation branch to complete their investigation to ensure the reasons for the accident are understood before we consider whether any further measures are necessary," Lord Attlee said.
"There is no reason to believe that helicopter operations over London are unsafe."