Ali Dizaei conviction 'should be quashed', court hears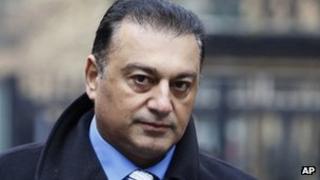 The Court of Appeal has been urged to quash the conviction of ex-Metropolitan Police commander Ali Dizaei for perverting the course of justice.
Dizaei, 50, from Acton, west London, was jailed in 2010 for four years for framing a businessman after a row.
He was found guilty for a second time at a retrial in February last year after his first conviction was quashed.
The Court of Appeal was told the judge had made an "error of judgement" over character evidence.
Evidence rejected
His QC Stephen Riordan said the conviction was "unsafe" as the judge had not allowed certain "bad character" evidence relating to the businessman, Waad al-Baghdadi.
The barrister said the judge's decision to reject the evidence meant the jury "did not have all the material that it should have done".
He added that the evidence the team had wanted to use included allegations that Mr al-Baghdadi had a propensity to "threaten violence and a propensity to use it".
Opposing the appeal, Peter Wright QC told the court the judge did not make an error and that the decision "was not wrong in law".
He also argued that even if the judges - including Lord Chief Justice, Lord Judge - took a different view, it would still not render the conviction unsafe.
The evidence at the centre of the appeal would have been "but one further facet of bad character in this case of which the jury had a great deal".
"We submit that in the context of the fairness of this trial, that this trial remained entirely fair and that the conviction was not unsafe," he added.
Three-year sentence
At the second trial, Dizaei was also convicted of misconduct in a public office.
After the second trial he received a three-year prison sentence, although London's Southwark Crown Court reduced this by the 15 months he had already served and he has been released.
Dizaei was sacked by the Metropolitan Police in May following internal disciplinary proceedings.
He was a police officer for 27 years, beginning his career with Thames Valley Police then working with the Met.
The Court of Appeal judges reserved their decision to be given at a date to be announced.