Battersea Park revamp protesters evicted from site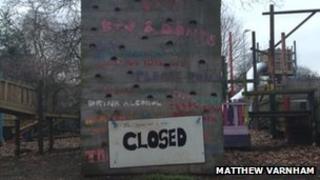 Protesters who have been occupying an adventure playground in south London have been evicted.
Wandsworth Against Cuts had been camping at Battersea Park Adventure Playground since 5 January but were last week ordered by the courts to go.
They had opposed plans to install play equipment which they claimed would not require council supervision.
The council said 92% of children using it were aged 12 and below and most were accompanied by adults.
It added that the new play area would be open for longer and would include rope swings, chain ladders, aerial walkways, tube slides, scramble nets, zip wires and fireman's poles, which do not need supervision.
The campaigners, which include members of Occupy London, were evicted in the early hours of Wednesday.
Protestor Ronald MacClean said: "We may lose in this struggle but there will be more and we'll keep fighting these councillors.
"The Conservative councillors in Wandsworth are abandoning all responsibility for young people."
But the council said it was investing in young people and that the protest had taken £30,000 out of its budget.
It said it needed to cut spending by £70m and as frontline services had to be prioritised, "high level of spending on adventure playgrounds is regrettably no longer sustainable".