Pimlico stabbing: Taxi driver appeal over Hani Abou El Kheir death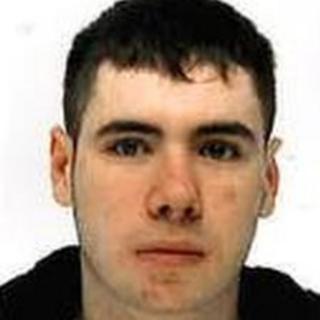 A London taxi driver seen picking up three suspects minutes after the fatal stabbing of a teenager in central London is being sought by detectives.
Hani Abou El Kheir, 16, was killed in a suspected drugs-related attack in Lupus Street, Pimlico, on 27 January.
The suspects got into the silver taxi in Hudson Place, near Victoria station, just before 19:00 GMT, police said.
On Saturday police arrested four males on suspicion of murder and four people on suspicion of assisting an offender.
The murder suspects, teenagers aged 19, 18, 17 and 16, remain in custody.
The four arrested on suspicion of assisting an offender - a man aged 48, a woman of 47 and two girls aged 17 and 16, were all released on bail late on Sunday night until a date in March. A 20-year-old man arrested on Thursday has also been released on bail.
Taxi community
According to new information, a silver London taxi was seen picking up three suspects in Hudson Place before turning left into Wilton Road.
Appealing to the taxi driving community for help, police urged the driver involved, or anyone who knows them, to come forward.
Det Ch Insp Neil Attewell said: "We are exploring numerous lines of enquires, with this latest development being one of them.
"I am appealing to the driver of the silver taxi seen in Hudson Place at 18:59 on that Sunday to come forward.
"Are you that taxi driver? Where did you drop the passengers off and did they discuss anything of significance whilst in the taxi?
"I am also seeking the assistance of the wider taxi community. With a taxi rank close by there would have been other drivers who may have witnessed the suspects getting into the silver taxi.
"Did you see one of your colleagues pick up three people around this time or do you recognise the taxi?"
Hani, who lived on the nearby Churchill Gardens estate, died from multiple stab wounds at King's College Hospital.
Police returned to the scene of the stabbing on Sunday evening to encourage people to come forward with information.
Leaflets containing appeals from Hani's mother, Pauline Hickey, other members of his family and his girlfriend were handed out to residents.