Horror attraction prop sale to boost youth acting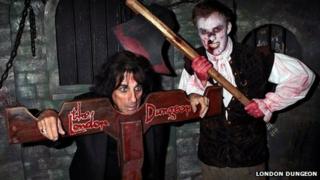 Gruesome props and exhibits from a London horror attraction have been snapped up at a car boot sale, raising hundreds of pounds for youth acting.
A set of stocks which have "locked up" numerous celebrities raised £200 in the sale of London Dungeon memorabilia in Pimlico, central London.
It comes ahead of the attraction's move to a new venue on the Southbank after 38 years in Tooley Street.
A spokeswoman said: "Everything went in about 30 minutes. It was great fun."
Acting opportunities
Hundreds of people streamed through the entrance to the site in Lupus Street, Pimlico, on Sunday morning.
A woman from Canada, who lives in London, was among a number of so-called Early Birds and managed to stake her claim to the set of stocks before the sale started at 11:30 GMT.
The spokeswoman said: "It was incredibly quick and everyone seemed happy with what they got.
"It was really good fun. People were really receptive to the sale and were sharing their memories of the dungeon."
False eyeballs
All the money raised from Sunday's sale will be invested in providing theatrical and acting opportunities for young people in London.
Items for sale included an array of torture and surgical implements, a mountain of severed limbs and a stash of false eyeballs as well as costumes.
There was also a variety of one-off items, including a set of stocks which celebrities including Alice Cooper, Jonathan Ross, One Direction and Michael Douglas have posed in.
General manager Ben Sweet said: "When we move, we're not just changing address, we really are creating something totally new so inevitably we have rather a lot of items from Tooley Street that need rehoming.
"Rather than sell them all off to a theatre prop shop or museum we decided to let fans have a chance to own a bit of our horrible history."