Domestic violence on agenda at Young Question Time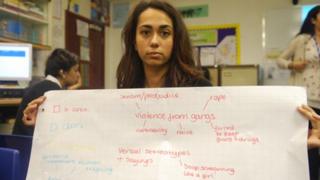 In a classroom in Walthamshow, east London, a group of 15 and 16-year-olds have to place scenarios about domestic situations between partners into categories - are they acceptable or not?
'Helping me to choose clothes when I go shopping' is one of them and prompts instant debate. When does something that sounds fairly innocuous become controlling behaviour?
Danielle Francois, 15, thinks it is acceptable for a man to help choose his partner's clothes, but not if he is trying to decide what his partner wears when she is out with friends.
The pupils are debating different issues faced by women in preparation for an event in parliament where young people will pose questions about issues that concern them to 'decision-makers' in that field.
Among the topics up for debate are forced marriage, FGM (female genital mutilation) and the one that got the most response in the Walthamstow classroom - domestic violence.
"I want to ask why it's ok to not properly discuss the issue of domestic violence in the press," said Bethani Pather, 15, a pupil at Willowfield Humanities.
She feels that violence against women is seen as a less attractive story to the mainstream press.
"And while it is apparently ok to always cover issues like racism - domestic violence isn't looked at as a big issue even though it affects so many women."
Organised by Maslaha, a London Muslim organisation, the event will bring together young people from across the city to put questions about these difficult topics to a panel of experts - including police officers, the CPS, the Forced Marriage Unit and anti-FGM campaigners. The event will be hosted by Labour MP Stella Creasy.
Teacher Satminder Natt said it was often the more subtle forms of abuse that her pupils needed to discuss.
"When it comes to rape, we all know that's bad, but being controlling - what is controlling behaviour and what is not? That's the kind of thing that young teenagers going into relationships really need to be informed about.
"We don't have enough time in class to debate these issues so it's vital to have workshops like this so they do know what to do if they or someone they know is subjected to kind of violence."
The event is being held as part of a number of events leading up to One Billion Rising - an international movement demanding an end to violence against women and girls.
Sarah Hobbs is from Maslaha, the charity organising the Question Time-style event.
"It will possibly be the first time that the young people are face to face with a politician, a high profile journalist and directors in their field and to be able to put their own voice forward.
"Likewise, it's an opportunity for those influential people to hear their voices and have the opportunity to put their ideas into practice - to turn them into policy."
You can hear more on this story on the BBC Asian Network on Thursday 7th at 13:00 GMT and 17:00 GMT or listen back on BBC iPlayer