London Air Ambulance helicopter gets makeover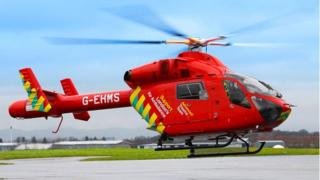 London's Air Ambulance has had a makeover in a bid to raise awareness and funds for a second helicopter.
The red helicopter now has emergency markings and its tail boom will be updated with the number of critical missions attended - currently more than 28,500.
London has one helicopter to attend about 2,000 trauma victims every year.
London Air Ambulance is a charity and needs donations to raise about £2m to buy a second aircraft.
'Relatively unknown'
The charity, which receives some funding from the NHS, said London is the only capital city in the world with only one helicopter for its air ambulance service.
Graham Hodgkin, chief executive officer of London's Air Ambulance, said: "Our aircraft provides the most effective opportunity for us to deliver our key messages to London and potential donors, hence the strategic new look of our iconic asset."
He added: "Despite our extraordinary life saving work and prestigious reputation for medical excellence throughout the world, our charity remains relatively unknown within the city in which we operate.
"A stronger, more powerful relationship with all of our supporters will be a key component of the current fundraising effort for a new, second helicopter this year."
The London Air Ambulance was founded in 1989.