Bangladeshi Londoners bid for football glory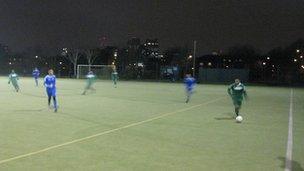 A tatty artificial pitch on a freezing February night in east London is not where you would expect to find an international football manager looking for potential recruits.
Hastily convened at the request of the new Bangladesh manager, Lodewijk de Kruif, up to 40 amateur and semi-pro players from the UK's Bangladeshi community have taken part in a trial match to find talent for the national side.
The Bangladesh Football Association, which co-ordinates grassroots football in Tower Hamlets, arranged the match only a few weeks ago which is why the venue was less than ideal.
Despite the playing surface, freezing temperatures and Manchester United against Real Madrid on TV, the turnout was impressive considering how far some of these players had travelled.
Akhtar Hussain, 20, said he had driven 300 miles with his friends for the chance to play for Bangladesh: "We've come from Oldham. If the chance comes your way, you've got to take it."
Al Amin, 26, said: "It's been a struggle for us to come down because up north it's snowing."
The match kicked off and the touchline was crammed with shouting substitutes and managers, supporting family and friends, random observers and of course, the Bangladesh coach and his two assistants.
Mr De Kruif, who played professional football in Holland, Belgium and Germany, said: "The only thing we want is the best players in the team and as quick as possible because we need the results.
"For us it's a big challenge to organise and develop football (in Bangladesh). At the end of the day the results must bring us higher in the FIFA rankings."
Bangladesh are the 168th best football team in the world according to those rankings, so it is no wonder the team is still considered one of the minnows of the global game.
So, in a country of 160 million, why are trials not held in Bangladesh?
The Dutchman said: "In Asia, the players are not too physical, not too strong. We want to see what is happening outside Bangladesh.
"We know Bangladesh is an old English colony. That means there must be a community over here. That's what I did. On the internet, calling here, calling there, came in contact with those people and they invited us to come over."
The chosen few, if any, will find out via the Bangladesh Football Association whether they might warrant closer inspection.
Fayzul Hoque, who works for an accountancy college, said he did not know whether he had enough to impress the gaffer: "You never know. This is the first time this has happened.
"For a local boy from east London to go and play for Bangladesh, well, you can't write these things. Hopefully (it will happen), God willing, my father willing and if my manager let's me have the time off."
Related Internet Links
The BBC is not responsible for the content of external sites.