Fog disrupts flights at Heathrow and London City Airport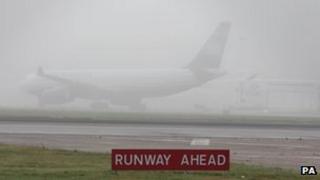 Poor visibility due to fog led Heathrow Airport to cancel 68 flights, and there were severe disruptions and several cancellations at London City Airport.
The 34 arrivals and 34 departures were scheduled for between 06:00 GMT and 11:00 GMT, a Heathrow spokeswoman said.
Both Heathrow and London City airports resumed normal operations after the fog lifted from 11:30 GMT onwards.
There was also no service on Woolwich ferry from 06:00 GMT due to fog. Services resumed after five hours.