Gay couple say London hotel denied them double room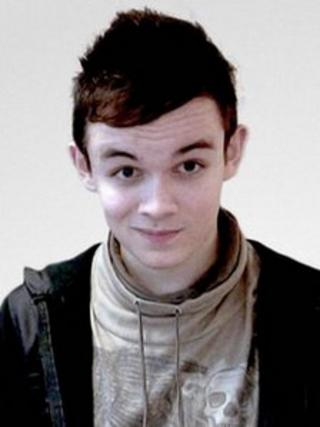 A man has said he and his boyfriend were refused a double room at a London hotel by a receptionist who repeatedly asked "are you sure you don't want single beds?".
Nick Hurley, 22, and Gavin Maclean, 28, from Manchester, had booked the double room at the Thistle City Barbican hotel in central London for Saturday night.
Mr Hurley said: "I believe I've been treated in a homophobic way."
Thistle Hotels "unreservedly apologised to Mr Hurley and his partner".
The hotel's chief executive Mike DeNoma said: "The entire team and I take this matter very seriously.
"No form of discrimination is acceptable in our hotels and we regret what happened to Mr Hurley and his partner."
The couple had booked their room through an online booking system and there were no double rooms available when they arrived late at night, he added.
Mr Hurley and Mr Maclean were visiting the capital for the weekend and had been to the theatre before arriving at the hotel at about 23:30 GMT.
Twitter response
Mr Hurley said: "When we got there, we tried to check in, and the receptionist looked at us and said 'are you sure you want a double room or do you want single beds?'"
"He had obviously seen it was two guys. We said 'we've booked a double and we'd quite like one'.
"He then looked at us and said 'are you sure you don't want single beds?'
"He insisted on repeating that question," Mr Hurley said. "I felt it was a way of him imposing his own stamp on the situation. I got a barbed vibe.
"He said we'll have to put you in a family room, with single beds. There were no doubles left in the hotel.
"We're quite non-confrontational," the 22-year-old said.
"I'm not that easily wound up but I was angered. We were tired and decided not to make an issue."
'Basic bullying'
He said he was upset and later tweeted: "Homophobic receptionist at @ThistleHotels refused me & my bf our pre-booked double room. Insisted we take a "family" room w/ separate beds."
He said he was "taken aback" that he had since received thousands of messages of support.
"This kind of thing is basic bullying," he said. "It can't happen. If anything comes out of this, it should inspire organisations to change."
On Monday afternoon, Mr DeNoma said in a statement: "This morning we held team meetings across all Thistle Hotels to reinforce that we do not tolerate any form of discrimination and to remind every employee of the culture and beliefs of the whole company for equal positive treatment of every individual.
"A full review is taking place at the hotel with staff members on duty Saturday evening.
"Whatever the outcome, it is clear that we failed to appropriately communicate why there were no double rooms available to Mr Hurley and his partner.
"We unreservedly apologise again to Mr Hurley and his partner."
Gay rights group Stonewall's chief executive Ben Summerskill said: "Subject to the facts being as reported, it's sad to see that this sort of thing is still happening as it's been unlawful for five years.
"A major hotel company must be well aware they can no more turn away a gay couple than a mixed race couple, even though they might not approve of them either."