Killer 'who wanted to see Queen' detained indefinitely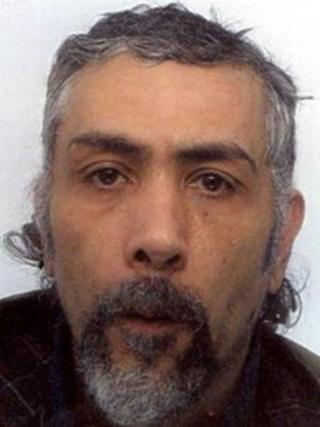 A man who turned up at Buckingham Palace hours after killing a rough sleeper and demanded to see the Queen has been detained in a secure hospital.
Ghodratollah Barani strangled Mark Morrison, 46, at Marble Arch, central London, in June and spent the next week repeatedly trying to see the Queen.
He said he heard voices telling him to kill someone so he could be king.
Barani, 27, pleaded guilty at the Old Bailey to manslaughter on the grounds of diminished responsibility.
'Entirely preventable'
The Afghan national, who was ordered to be detained indefinitely, had been to the palace before the killing and was twice taken to hospital but doctors thought he was faking illness to further his asylum application.
Judge Christopher Moss criticised the doctors who examined Barani before the killing.
He said: "I have no doubt from what I have read and heard that (the death) was entirely preventable."
After being turned away from the palace on 21 June, Barani went to Marble Arch and strangled Mr Morrison with a green cord in the middle of the night.
He was arrested on 29 June, after he was linked to the killing, when he spoke to police and soldiers in Horse Guards Parade, the court heard.
'King of Afghanistan'
Former chef Mr Morrison, who was born in Dunblane, had been sleeping on a bench at Marble Arch since being made homeless a few months before.
The judge said he was satisfied Barani had schizophrenia, although doctors had not diagnosed it.
Judge Moss told Barani: "Voices were telling you you had to kill someone in order to become king, that you had to kill in order to become king of England.
"After the killing, the voices told you to return to Buckingham Palace saying you will be king of England."
When he was stopped at the north gate of Buckingham Palace, he said he was the king of Afghanistan.
Barani had been taken to St Thomas' and Gordon hospitals after two previous attempts to enter the palace.
The judge said: "You were taken to hospital and, despite telling doctors you were trying to seek refuge there and wanted to see the Queen, you were not diagnosed with mental illness."
He told the court that "bizarrely" on another occasion, Barani was turned away from St Thomas' A&E department, despite saying he had thoughts of killing someone in order to become king.
Zoe Johnson, prosecuting, said doctors believed his claims were linked to his asylum claim.