Oxford Street to get £195m redevelopment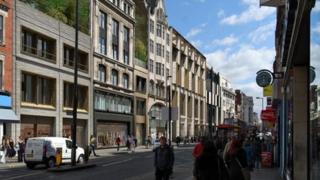 An area of Oxford Street is set to be transformed with a £195m redevelopment.
Westminster City Council has approved plans to knock down several existing buildings on Oxford Street East and replace them with housing and retail.
They will be replaced with one that measures 9,700 sq metres, the equivalent of two football pitches.
The current sites of Lloyds TSB, restaurants, Whittards of Chelsea, Crest of London and Cafe Nero will be demolished by the development.
Councillor Alastair Moss, the council's planning committee chairman, said: "It complements the ongoing improvements at Tottenham Court Road and is a great addition to the UK's most popular High Street."
The council said it was "the next stage of an important redevelopment in what is soon to become a critical part of the West End economy".
The scheme will also see £2.5m given to the council's affordable home fund.
Richard Dickinson, chief executive of New West End Company, which represents businesses in Bond Street, Oxford Street and Regent Street, said the area would be transformed ahead of Crossrail opening in 2018.
Crossrail will stop at Tottenham Court Road, which will lead to the area becoming busier with an estimated extra 200,000 people per day.