London considers Commonwealth Games bid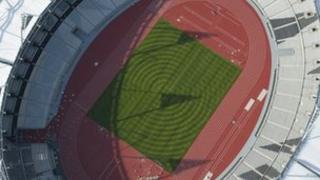 Olympics legacy bosses are considering a bid for London to host the 2022 Commonwealth Games.
After the success of last year's Olympic and Paralympic games, organisers said they were "thinking hard about it".
The Queen Elizabeth Olympic Park would be the centrepiece of the bid.
London Mayor's adviser on Olympic legacy, Neale Coleman, said Lord Coe, who spearheaded the games, thought the idea would be a "fantastic follow-up".
He added that the bid was in its early stages.
"It's a great event, it brings people together in a very unique and special way and it's the sort of event that we would certainly hope the Queen Elizabeth Olympic Park will stage one year or another in the future," he said.
Mayor's backing 'fundamental'
England last staged the Commonwealth Games in Manchester in 2002, while the next Commonwealth Games will be held in 2014 in Glasgow.
"We need to make sure it's something that will be welcomed across the Commonwealth," Mr Coleman continued.
"We wouldn't go into it unless we believe we could win it."
"The mayor's decision to back this is fundamental. It really will come down to whether the mayor sees this as a priority and believes it's something it's worth London doing," he said.
Following on from the Games, the Olympic Stadium has a series of events lined up later this year.
Jay Z and Justin Timberlake are set to headline the Wireless music festival there while Bruce Springsteen will play the Hard Rock Calling Festival, also staged at the stadium
In 2017, the World Athletics Championships and the Paralympic Athletics World Championships are to be held at the stadium.
Legacy bosses are also in talks with West Ham Football Club about it moving into the stadium, probably from the 2016-17 season.
If this goes ahead, Mr Coleman said a Commonwealth Games would not interfere with the football club's ability to hold Premiership matches.