Waltham Forest faces legal action over soup kitchen move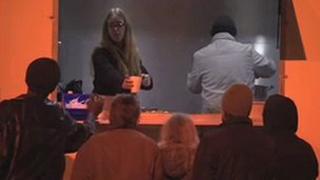 A council is facing legal action over its plans to move a soup kitchen from an east London town centre to an out-of-town location.
Charity Christian Kitchen has run its service for more than 20 years from a van in a car park in Mission Grove, Walthamstow.
But Waltham Forest Council has asked the van to move saying residents had raised "on-going safety concerns".
The charity said it has not been properly consulted by the council.
Three users of the soup kitchen have instructed lawyers at Irwin Mitchell.
'Trouble magnet'
The lawyers have written to the council informing them if they do not meet organisers of the soup kitchen to discuss a potential new site and find a solution, they would seek an urgent judicial review of the decision.
Christian Kitchen said it cooked its food at a location in Forest Road before driving down to the town centre and about 50 people ate there every night.
A spokeswoman from the council said last month police reported a rise in anti-social behaviour.
She said: "They reported that alcohol-related crime and anti-social behaviour have been an issue for some time around the environs of the High Street, Walthamstow.
"We know that the Christian Kitchen feel passionately about their work, that is why we have found them another site which is on a main bus route and in a non-residential part of the borough close to a large supermarket.
"The current site has sadly become a magnet for some people who want to cause trouble and we do not think that it is right that local residents should be made to feel unsafe when a better non-residential site is available."
'Serious concerns'
Irwin Mitchell lawyer Alex Rook, representing the charity, said: "The soup kitchen is a vital charitable service for the homeless and vulnerable people in the area.
"My clients believe that the council has not properly consulted with either the organisers of the Christian Kitchen, or the users of the service.
"They have not provided any suitable evidence which shows how the soup kitchen is responsible for anti-social behaviour.
"There are serious concerns that many of the current users of the service simply won't be able to get to the proposed new site."