Kate hoax call: Nurse's inquest date set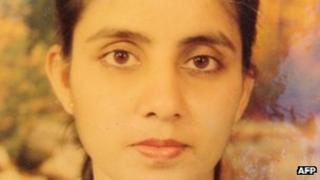 The inquest into the death of nurse Jacintha Saldanha, who answered a hoax call about the pregnant Duchess of Cambridge, will be heard in May.
Coroner Dr Fiona Wilcox told a hearing the inquest will take place in central London on 2 May.
Mrs Saldanha's family said they were grief-stricken by her death.
Her husband Benedict Barboza, daughter Lisha and son Junal stood quietly as MP Keith Vaz spoke of their suffering outside Westminster Coroner's Court.
Australian 2Day FM DJs Michael Christian and Mel Greig sparked widespread condemnation in December when they were put through to the duchess's ward after phoning King Edward VII's Hospital in Marylebone, posing as the Prince of Wales and the Queen.
She was receiving care at the hospital for an extreme form of morning sickness when Mr Christian and Ms Greig made the prank call.
Mrs Saldanha, from Bristol, answered the phone and put the pair through to a colleague who detailed the duchess's condition.
'Healing process'
The 46-year-old's body was found in nurses' quarters three days later.
Mr Vaz, who is representing the family, said: "Today marks the beginning of the end as far the legal process is concerned but it does not take away the terrible grief the family are still suffering.
"The next few weeks are going to be very difficult for the family until 2 May when, of course, the inquest will begin. Both children have very important exams which they wish to concentrate on."
Mr Vaz added: "These have been dreadful, dreadful weeks and months for them.
"They will never ever come to terms with the death of Jacintha who they loved so much, but they hope this process will begin the healing process."
At the hearing, anonymity was granted to a duty nurse who may have been one of the last people to have spoken with Mrs Saldanha on the night of the call.
Fiona Barton QC, for the hospital, argued the particulars of this case "cry out" for anonymity for members of staff at the hospital.
There was "concern" that the nurse could come under the same pressure stoked by the media, according to Ms Barton.
Coroner Dr Wilcox said: "I feel that this is proportionate in respect of this case because of the particular sensitivity.
"This is an order I have made with a heavy heart.
"This is a public court and everything should be heard in public. I have made my ruling."