Missing boy Lee Boxell: Sutton church grounds searched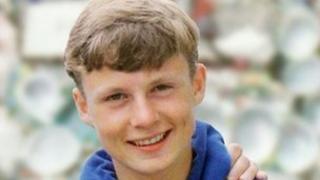 A part of a churchyard in south London has been excavated by police officers investigating the disappearance of a boy 25 years ago.
Lee Boxell was last seen in the High Street in Sutton in September 1988 when he was aged 15.
Officers fear he was murdered by a paedophile gang linked to a youth club which met near the church in the 1980s.
Part of St Dunstan's Church at Cheam, which is less than a mile from where Lee was last seen, has been sealed off.
A forensic team is using ground-penetrating radar in the area being searched.
Crimewatch appeal
The Metropolitan Police said the dig was "routine activity" and part of its inquiry into the teenager's disappearance.
Officers began a search of the area near a shed, an outbuilding at the church, and the graveyard last year and had planned to resume the operation in April.
Last month Lee's parents appealed for information on the BBC's Crimewatch programme.
Since the broadcast, police have received an allegation of sexual abuse and callers came forward with information that was "very focused" on the team's current line of inquiry.
Investigators said they were working on the theory Lee died after intervening to try to stop sexual abuse at the shed, which had been a target for sexual predators.