Wife accused of hiding husband's plot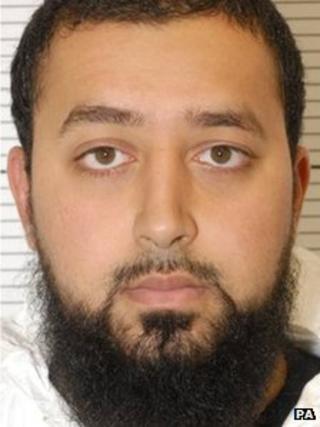 The estranged wife of a convicted terrorist has gone on trial, accused of hiding his intentions from the police.
Woolwich Crown Court was told Salma Kabal, 23, and from Birmingham, was not involved in her husband Ashik Ali's plot and believed he was only planning attacks abroad.
However, she should have told police, prosecutor Stuart Baker QC said.
Ali was one of three men convicted in February of plotting a bombing campaign in the UK.
Along with the other ringleaders, Irfan Naseer and Irfan Khalid, Ali talked about using rucksack bombs and timed devices to stage attacks which they hoped would surpass the killings of 7 July 2005, when 52 people died in London.
The jury at Ms Kabal's trial has been told that it will hear recordings of conversations between her and Ali.
Movie reference
The court heard that at the time the conversations were recorded, in 2011, Ms Kabal and Ali had separated, but that she was seeking a reconciliation.
Ms Kabal had not told the police of Ali's planned terrorist attack because she was hoping to rescue their marriage.
One bugged conversation involved Ali telling Ms Kabal that they could not continue together because he was going to get involved in terrorism abroad.
The prosecution said that whatever Ms Kabal's feelings for her husband, she should have contacted police about his plans.
Mr Baker said Ms Kabal and Ali had also referred in conversation to the film Four Lions, a black comedy which depicts a group of hapless British terrorists plotting a bombing campaign.
In 2011 she allegedly texted Ali saying "4 lions at 9 on channel 4."
Ali allegedly replied: "Don't bother texting me you never use your brain you almost got me in court you dont (sic) learn the easy way one day you will learn the hard way."
She allegedly responded: "I don't care I am not scared of them"
The trial was adjourned for the day.