Traffic light leads for Hackney's stray dogs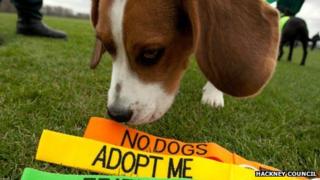 Stray dogs that need re-homing in part of London are set to wear traffic-light coloured collars and leads to indicate their temperament.
Kennel dogs in Hackney will wear green, amber and red collars to signify their behaviour when walked on Hackney Marsh.
Hackney Council said 90% of its strays were Staffordshire bull terriers and sometimes considered "negative" dogs.
The Dogs Trust said it was an "encouraging" move, but not a solution to behavioural problems.
The dogs based at Millfields Road kennels will wear green collars to indicate they are friendly, amber to show they are uncomfortable with others and red if they do not like to be approached.
The dogs will also wear coats advertising their need to be re-homed as part of the £480 project.
Alastair Smith from the council said: "A lot of the dogs we get are staffies (Staffordshire bull terriers) and some people see them as negative dogs.
"If someone's going to approach them in the park it's a way of showing how they'll react."
During 2012 Hackney Council collected 215 dogs - 76 were re-homed, 97 were returned to their owners and 42 were put to sleep.
Elvira Meucci-Lyons, from the Dogs Trust said: "It is the responsibility of dog owners to train their dogs and address behavioural problems, so a traffic-light coloured lead and collar should only be considered a first step and not the solution to a dog's behavioural problem."
The Trust said Greater London had seen a 148% rise in stray and abandoned Staffordshire bull terriers, which are considered "status dogs", increasing from 1,641 in 2011 to 4,071 in 2012.
It said people were abandoning them because they could not afford to keep them, their status effect had worn off and over-breeding had lessened their financial value.
The Trust added that staffies made "excellent pets when cared for by responsible dog owners".