Payout row over former Piccadilly club set for development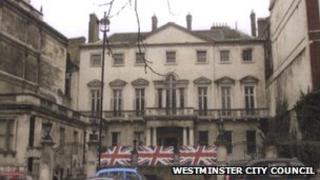 Approval has been given to convert a Grade I listed former private members' club in Piccadilly into one of the country's most valuable townhouses.
Westminster City Council agreed that £5.5m could be paid by Reuben Brothers in lieu of the affordable housing such a development could bring.
Labour planning committee member David Boothroyd said the amount fell well short of what could have been raised.
The council said it would help provide homes for those most in need.
'Urgent restoration needed'
The empty 18th century property - formerly home to the Naval & Military Club - and adjacent buildings, was purchased by the Switzerland-based private equity company, owned by David and Simon Reuben, in 2012.
They intend to convert the building into a 48-room townhouse with underground parking for 12 cars and a swimming pool.
Conservative-run Westminster Council said it would make it "one of Britain's most expensive homes".
A development of this size would usually come with a requirement that affordable housing be provided, but planners agreed that it would not be appropriate or practical in this case.
Instead of building 17 affordable flats, council planners recommended £9.97m be paid to a council fund.
But an offer of £5.5m was accepted instead.
Mr Boothroyd, who sits on the planning committee, voted against the proposal.
He said: "The council constantly claims it has limited resources of affordable housing and funds but its independent viability assessment says they [Reuben Brothers] could have paid more."
Reuben Brothers had originally claimed it was not commercially viable for it to pay any money in place of its social planning obligation.
He said over time the sum was increased.
'Significant money'
Councillor Robert Davis, deputy leader of Westminster City Council, said: "I am delighted the applicants raised their original offer of £1.8m to £5.5m for affordable housing.
"This is one of the last remaining houses of this type in that area, despite the fact that so many used to adorn Piccadilly in the past, and is in need of urgent restoration."
The council said the "significant sum of money" would provide much needed affordable housing.
The main building, known as the In & Out Club because of its distinctive entrance, has been empty since at least 2001.
English Heritage welcomed the go-ahead being given.
A spokeswoman said: "The proposals present a real opportunity to improve the appearance of an important road into the heart of the capital and remove a great building from the Heritage at Risk register."
The Naval & Military Club moved to St James's Square in 1999.