Barnet win last match at Underhill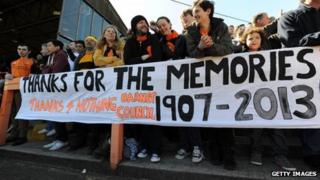 An injury-time penalty save ensured a dramatic and successful end to Barnet's 106 years at their Underhill ground.
The north London club beat Wycombe Wanderers 1-0 in the League Two clash courtesy of a late goal from Jake Hyde and a last-gasp save by Graham Stack.
The farewell game was delayed by 15 minutes to allow all 6,000 spectators to get into the packed ground.
The Bees will move to The Hive in neighbouring Edgware next month, which has been their training ground.
The victory means Barnet are now out of the relegation zone.
Barnet have played at Underhill, famed for its sloping pitch, since 1907, when their first opponents were Crystal Palace.
Speaking before kick-off, director of football Paul Fairclough said the match would be "very, very emotional".
He said: "A lot of relationships and friendships, even marriages, have been developed there, so it means such a lot to so many people."
After the game, supporter Tom James, tweeted: "Brilliant from Barnet. If you're playing your last game at a ground a late winner followed by even later pen (penalty) save is a great way to bow out."
In February Barnet announced their intention to play their home matches at The Hive, the club's training complex on Camrose Avenue.
It followed the club's failure to resolve lease issues with Barnet Council regarding the land surrounding Underhill.
Harrow Council and the club have signed a 10-year agreement for The Hive.
The club hopes one day to be able to build a 10,000-capacity stadium as a permanent home.