London Marathon runners 'determined' after Boston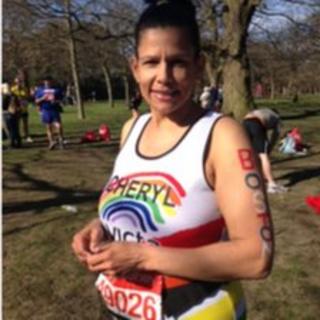 There were the usual nerves as the runners limbered up at the start of the marathon, especially for those taking part in their first 26-mile race.
But the mood was buoyant and bright at Blackheath Park in south-east London as the runners prepared to begin the long haul to the finish line near Buckingham Palace.
Many participants admitted they were worried after bombs went off during last week's Boston Marathon, killing three people and injuring more than 170.
But rather than letting it put them off, the attacks seem to have made many runners more determined than ever to complete the course.
Applause for Boston
Charles Stevenson, 29, from south Wales, said he felt good ahead of his first marathon but admitted he had been worried about bringing his wife and two-year-old son to support him.
"At first it put me off, but I read lots of running forums and that put me more at ease.
"I was worried about them waiting for me at the finish but they have upped the security and that makes me feel more at ease."
Megan Karll, 31, from Michigan, who now lives in London, said Boston was on her mind.
"It was such a tragedy and added a few extra nerves, but it's made me more determined to do it.
"My family back home are a little worried but I think they are also proud."
The Metropolitan Police had an increased presence, and sniffer dogs were at work in Blackheath Park.
However, the policemen on duty described it as "business as usual" and said the atmosphere was as good as ever.
Cheryl Clearly, 49, from Liverpool, said she had decided to run the marathon ahead of her 50th birthday.
"It's brilliant. Dead exciting. I can't wait to do it."
'Lightning won't strike twice'
Referring to Boston she said: "It was just shock, disbelief and horror; everyone should be out there supporting each other to keep going."
First-time runner Daniel Gant, 24, from Ipswich, said Boston had affected his focus, but added that "lightning probably wouldn't strike twice" and said he was looking forward to raising money for a children's hospice.
Violet Philips was also focusing on the end result and raising money for the Leukaemia & Lymphoma Research charity.
She said: "My son went into remission two years ago so I just wanted to give something back.
"I feel sad about Boston, but it wouldn't be right to let those people dictate."
With many runners sporting black armbands and ribbons for the victims of the bombing, Boston was not far from the minds of the competitors and their supporters as everyone fell silent for 30 seconds to remember the tragedy.
After a loud cheer and a round of applause in Boston's honour, the runners were off, the excitement and atmosphere outweighing any fears they may have felt in the days and hours counting down to the race.