Camberwell war veteran murder 'unnecessary' says family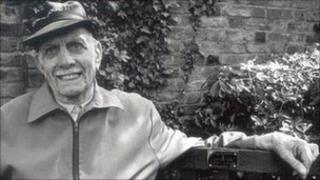 The family of a 90-year-old war veteran who was attacked at his south east London home three years ago has said his death was "unnecessary".
Geoffrey Bacon was knocked to the ground as he entered his Peabody Estate flat, near Camberwell Green, on 26 April, 2010.
He was punched and suffered a fractured hip, and died three months later.
The Metropolitan Police said it was continuing to investigate and had a £20,000 reward for information.
War hero
His son, Philip Bacon, 65, from Whitstable, Kent said: "He was a hero to me, and a second world war hero.
"He would have been 94 in May, but he was very independent and loved Camberwell Green. He moved there in 1926."
His attacker shut the door and left with his wallet containing £40 and an expired bus pass.
Mr Bacon was taken to hospital, where he remained until his death on 5 August 2010.
His son said: "A 90-year-old man that had had fought from 1937 to 1946, went through the D-day landings, and he ends up in his hallway, punched and kicked by some nasty individual. It was unnecessary."
He added: "We're always thinking about him. But you've got to keep going and although it's hard life does go on."
The attacker was a light-skinned black man, aged between 30 and 40.
Det Insp Nathan Eason, of the Met Police, said "allegiances can change over the years" and anyone with suspicions or information should contact the police.