Gary Hayward family appeal over New Addington attack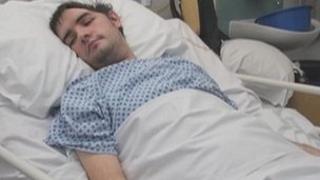 The family of a father of three who has been in a coma since a gang attack in south London in 2011 has appealed for help in seeking "justice".
Gary Hayward, 29, was left with "life-changing" head injuries when he was knocked to the ground in New Addington.
His father, John, was also wounded by the group of about 20 armed youths.
Mr Hayward's father, mother and sister will appear on BBC One's Crimewatch on Monday. A £20,000 reward has been offered for information.
A reconstruction of the attack will be broadcast during the programme appeal.
John Hayward said both he and his son were left on the pavement in Central Parade on 2 October 2011.
"They were beating [Gary] all the time, non-stop. They were beating me as well," he said.
"At that point I decided to lay still and pretend I was unconscious, hoping they'd stop, which they did.
"I was almost unconscious but I managed to crawl over to Gary. He wasn't breathing very well."
Arrests made
Mr Hayward has had surgery since the attack but has never left his "non-responsive" state.
Four males aged between 16 and 20 have been arrested during the 18-month police investigation.
All were suspected of grievous bodily harm and later released without charge.
The victim's sister, Zowey, said she hoped the Crimewatch appeal would lead to convictions.
"That's the best outcome we can hope for - that Gary gets his justice, and Gary can't fight for it for himself," she said.
Police said they believed the attackers' identities were known locally and were "determined" to trace them.
Crimewatch will be broadcast on Monday 29 April at 21:00 BST on BBC One.