Commercial flights increase proposed for RAF Northolt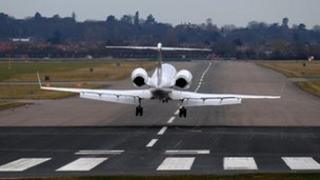 More commercial flights could fly out of a London military airfield in a bid to generate more revenue for the site.
The Ministry of Defence (MoD) said it was proposing to increase the number of flights from 7,000 to 12,000 each year at RAF Northolt.
It said due to financial pressures on the "defence budget in particular" it needed to generate a greater income.
The proposal would not exceed 40 flights per day and would be used by aircraft carrying up to 30 passengers.
Royal airfield
If approved, the increase would be made over the next three years making a total of 17,500 commercial movements annually by 2016, although there would be no increase in operating times.
The plans have now gone out to public consultation.
RAF Northolt, established in 1915, occupies hundreds of acres in the London Borough of Hillingdon, close to the M25.
It is home to the 32 (Royal) Squadron and is where the Queen takes most of her flights from.
It has also been used by visiting heads of state and dignitaries.