Hoxton's Marquis of Lansdowne pub saved from demolition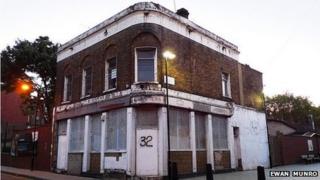 The proposed demolition of a former East End Victorian pub by a museum has been rejected by Hackney Council.
The Geffrye Museum in Hoxton planned a David Chipperfield-designed extension, which would involve knocking down the former Marquis of Lansdowne pub.
But on Thursday, councillors rejected the proposal, by seven votes to two.
The museum's director David Dewing said he was "bitterly disappointed", adding: "We are now considering our options carefully".
The decision was welcomed by conservation groups who had campaigned against the plans and won the support of historian Dan Cruickshank.
'Jaw-dropping irony'
Hackney Council rejected the design for the museum extension on the following grounds:
It was unconvinced that the structure on the side of the Geffrye Museum would not cause substantial harm to the Grade I Listed Building.
It did not feel the public benefits of the scheme outweighed the harm to the listed building and loss of former public house.
The proposed replacement building was not of sufficient merit to justify the loss of the public house.
David Dewing, director of the museum, which specialises in the history of the English domestic interior, said: "We are bitterly disappointed that Hackney Council has rejected our planning application to develop the Geffrye Museum.
"The decision by the Planning Committee denies the essential progress which keeps great cities vibrant and dynamic.
"We are now considering our options carefully."
The former pub sits within a conservation area and campaign groups including the Victorian Society warned its demolition would be a "real historical loss".
The Victorian Society director Chris Costelloe said: "It is a classic London pub which adds greatly to the character of the area.
"We hope that the Geffrye Museum will now rethink their plans.
"An architect of the calibre of David Chipperfield should be able to devise a proposal that realises the museum's laudable expansion proposals while retaining this atmospheric feature of historic Hoxton."
The Spitalfields Life blog, which has campaigned against the pub's demolition, posted: "Yesterday, I asked "How can it be that a museum which exists to protect our heritage wants to use public funds to destroy an historic building?'
"The jaw-dropping irony of this situation was not lost upon the members of Hackney Council Planning Committee."